Killerbody
1:1 Collectible Wearable Black Panther Helmet w/Eye Lights Touch Control System Wearable Black Panther Helmet w/Bluetooth Speaker
---
---
Description

In stock now!
KB20095 is helmet with stand
KB20095-1 is a helmet exclude stand
 https://store.killerbody.com/products/1-1-black-panther-collectible-helmet-w-chest-display-stand-eye-lights-touch-control-system-wearable
Product Name: 1:1 Collectible Wearable Black Panther Helmet w/Eye Lights Touch Control System
Wearable Black Panther Helmet w/Bluetooth Speaker  
Item No. : KB20095  UPC Code: 4895229500709
Wearable Black Panther Helmet
Item No. : KB20095-1  UPC Code: 4895229501768
Materials: ●ABS ●PC ●Metal ●Electronic components ●Inner lining cotton cloth
Product Description:
1.Integrate the classic elements of Black Panther in The Avengers;
2.Exclusive LED chest lamp of Black Panther
3.Boot sound;
4.Touch wake up;
5.High quality sound;
6.Low voltage reminder;
7.Lithium battery charging
Frosted surface, detailed texture, silver line highlights the helmet contour.
Original scale size, suitable for wearing; restore Wakanda element details; eye lights
touch control system.
1.Wearable and collectible;
2.Touch control to switch between red eye light and white eye light;
3.Revert all veins of movie version, three-dimensional details and black and silver texture
4.Restore the elements of Wakanda , full of sense of technology
5.Silver line on the helmet highlights the contour
6.Frosted surface texture, fine prototype reproduction
7.Eyes visible system
Size: 
Helmet:
Head circumference: 53-60cm
Packaging size: 34×25×26cm
Helmet w/Bluetooth Speaker:
Total size: 27*28*40cm
Packaging size: 33×33×42cm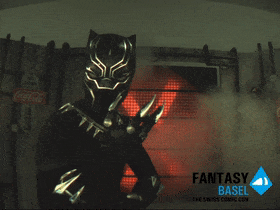 People who bought this product also bought