Killerbody
1:1 Iron Man MK7 Suit Life-size Wearable Armour Newly Upgraded Standard Version Marvel Licensed($300 is only the deposit !)
---
---
Description
Attention:
$300 is only the deposit to make order and cannot return!!
The price for Standard version is $4999.
Price is no included tax,freight or bank cost.
We advise the balance payment pay via bank tranfer,the cost will be lower.
We will check the armor before shipment. We will also provides after-sales service, but does not accept returns or exchanges.
More questions,welcome to contact:marketing@killerbodyrc.com
Buyer should pay the Armour's balance within 2 months,so that seller can ship the goods.
If without special situation,exceed 2 months,seller have rights to cancel this order and the deposit cannot refund.
This Wearable Full Body Armor Iron Man Suit is what every Marvel fan dreams of. With it, you'll get to dazzle everyone at the next Comic Con or cosplay party. Iron Man armor is tough to replicate when it comes to cosplay.
You deserve it😎. Will be in stock in March.
Please just click the chat button or send your email to our SalesTeam:  sales@superherokb.com for more info and counter offer if you are interested in this suit. Thanks for your support.
Ironman Suit
Best Avengers Cosplay
Best Captain America Cosplay
Ironman Armour
Iron Man MK7 Suit
Best Iron Man Cosplay
Iron Man Life-size Suit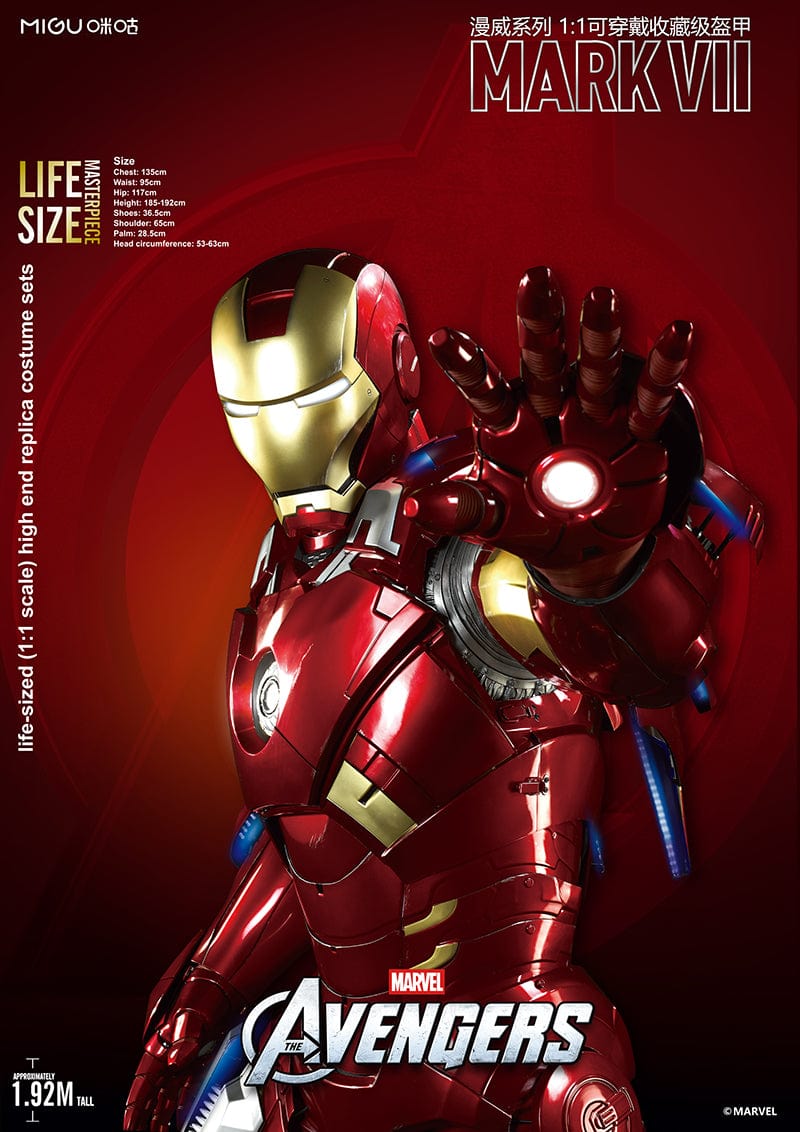 Feedback from our customers
Description:

-Mask electric remote control rising and closing;
-Eyes LED light system;
-Palm LED light system;
-Front chest arc reactor LED light system;
-Open front chest with detail inner structure;
-Open shank with detail inner structure

Newly Upgraded Standard Version

1-The wearable helmet has independent power supply, which can be played separately;

The helmet mask with detail inner structure can be taken down;

Mask electric rising and closing & Eyes LED light system both have three control mode: Voice control, Remote control and Touch control.

2-The left and right palms have independent power supply, which can be played separately. Left & Right palm have LED light system.

3-The waist is newly upgraded. The joints are fully movable, and PC materials is light and flexible.

4-A full set of metallic paint texture, painted with slight damage by hand.

5-Newly upgraded wearing experience, fast and convenient

Color:
Standard Color
Material:
PC
ABS
EVA
CPM
Package:
Color box
Package Size(cm): 
Carton Size(cm):
88*60*82
Pck./Ctn:
1
N.W.(kg):
17
G.W.(kg):
22
Product Size:
Chest: 135cm
Waist: 95cm
Hip:117cm
Height: 170-192cm
Shoes: 36.5cm
Shoulder: 65cm
Palm: 28.5cm
Head circumference: 53-63cm

 

Including:

1-Helmet
2-Neck
3-Shoulder
4-Shoulder soft rubber joint
5-Front chest
6-Back chest
7-Waist
8-Hip
9-Arm
10-Arm soft rubber joint
11-Palm
12-Thigh
13-Shank
14-Thigh parts
15-Leg soft rubber joint
16-Shoes
17-Tights
18-Shorts
19-Instruction sheet

Killerbody Hero Iron Man 3 Mark VII: 


Killerbody Hero Iron Man Armour-Meet With His Designer: 

Iron Man's Day Off (from Allen):

Killerbody Hero Iron Man MK7 - Driving car:
People who bought this product also bought